PARKS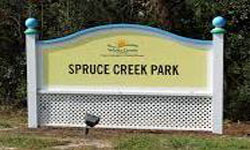 Spruce Creek Park is a beautiful 1, 637 acre nature preserve located at 6250 South Ridgewood Avenue, Port Orange with the park's entrance on US-1, about 5 miles north of intersection State Road 44 and US-1. Shaded underneath giant pine trees is a children's playground, picnic tables, horseshoe pits, a tent only campground, restrooms, fishing dock and a canoe launch that is best used during low tide due to mud. Spruce Creek Park also has exentive natural pathways that wind along the creek.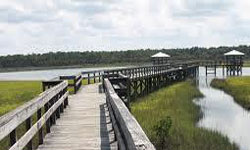 The nature trails begin with a 536-foot boardwalk that spans more than three miles. At the end of this tranquil trek is a 15-foot observation tower with a panoramic view of the diverse natural wetland habitats of Spruce Creek. Because Spruce Creek is a pristine waterway, this stream is home to a multitude of species including the Atlantic salt marsh snake, crab, shrimp, alligators and various types of fish. Due to the creek's rich vegetation many nesting birds can be observed throughout the preserve such as the Florida Sandhill Crane, the Yellow-Crowned Night Heron, Red-Cockaded Woodpeckers and the endangered Wood Stork.

Spruce Creek is unique because it is a natural black water stream and one of a few unspoiled channels in the state. Winding its way towards the coast, Spruce Creek transforms from a freshwater swamp to a freshwater marsh, then to saltwater marsh and finally to a mangrove wetland. Spruce Creek is designated as an official State Canoe Trail because of its undisturbed habitats. More than 2,000 acres of Spruce Creek are protected as natural resources due to aggressive preservation efforts.

Historically, Spruce Creek was inhabited by the Timucua Native Americans. This vast tribe left behind several artifacts and mountainous navigational markings known as shell mounds, or piles of mollusk shells. The Spruce Creek Mound is one of largest, oldest shell pilings in Florida and is located on a high bluff along the creek. It is believed that the Timucua Native Americans considered this area to be sacred and performed ceremonies and political functions at Spruce Creek Mound.

The beloved All Children's Park can be found at 5959 S. Spruce Creek Road, Port Orange. The 40 acre recreational facility was built specifically designed so it would include all children, including those with disabilities. The park is open from sunrise to sunset.

On the North corner of the All Children's Park is the Seemor Memorial Dog Park. With 48,400 square feet, it is the only park within the community that is exclusively for dogs. This unique play place has separate areas for small dog (under 30 lbs.) and large dog (over 30 lbs.). There are water fountains for dog owners and dogs, benches, and a wash station.

Just past the picnic tables and restrooms is a short nature trail along the tree-lined boardwalk that connects All Children's Park to the Spruce Creek Recreational Facility. This sports complex consists of two 300 square foot lighted baseball fields, an outdoor basketball court, six well lit tennis courts, a concession stand with restrooms and a small playground with monkey bars. Home to the Port Orange City softball/baseball program, men's, women's, boy's and girl's softball games are played within this active sports complex. Fields are open to the public during non game hours from sunrise to 11:00 pm.