The Pavilion at Port Orange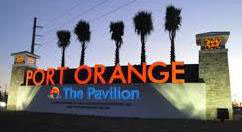 is a 550,000 square-foot open air shopping, dining and entertainment destination set on South Williamson Boulevard in Port Orange. This spectacular shopping haven gives consumers a unique experience with southern style architecture that is characteristic of Florida vernacular in an open-air pedestrian-friendly environment. Anchor stores include Belk fashion department store Marshalls retail store along with junior anchors such as Michaels arts and crafts and ATT&T Mobile superstore. Everything from local boutiques to national retailers like HomeGoods, David's Bridal, PETCO, and upscale specialty retailers can be found.

A focal point of this merchandise mecca is a seven-acre lake surrounded by several upscale restaurants and small eateries that line the landscaped pathways. Some offer light, quick meals while others feature a sit down dinner in relaxing atmosphere. From fantastic seafood to a scrumptious burger, Port Orange can satisfy any appetite.

More than 40 restaurants are located within the two-story Main Street themed buildings of wood, stucco, verandas and shutters that create an ambiance of old tyme southern charm. Near the ice cream and frozen yogurt shop pretty walkways and benches to sit on by waterfront view that is adjacent to Hollywood Theaters. This modern movie multiplex has stadium style seating and digital surround sound with digital Sony projection on 14 wall to wall movie screens.

At the heart of The Pavilion is the lakeside community center. This palatial spot is the gathering place for residents and visitors. Complete with a covered childrenís soft play area and benches, it is the perfect place to rest after a day of shopping. It is also home to The Pavilionís Green Market. Every Saturday vendors showcase fresh locally-grown produce and gourmet foods to customers who stroll along and enjoy the live music. Open year round from 8am-12pm, shoppers can find a vast variety of produce including locally grown organic fruits and vegetables, fresh seafood, baked goods and high quality vendors. To enhance the shopping experience, guests are treated to live local music.

Developed by the CBL Properties, The Pavilion at Port Orange is ideally located at 5501 South Williamson Blvd, which is the northwest corner of I-95 at Taylor Road with Williamson Boulevard as the main access point to the center. The Pavilion at Port Orange is a retail hub that attracts the surrounding communities of Port Orange, New Smyrna Beach, Edgewater and Southern Volusia County. Normal retail hours are Monday through Satruday from 10 am-9pm.